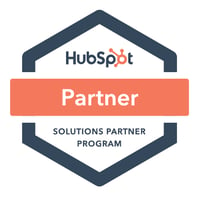 As a HubSpot Agency Partner Certified since 2011, KAYAK has demonstrated advanced knowledge of HubSpot marketing software, strategic knowledge of digital (inbound) marketing concepts, and proficiency in growth marketing execution.
We are a proven leader having worked with more than 600 clients across North America and parts of Europe. Our HubSpot CMS theme – FLOW – is engineered for lead generation, and is available exclusively to Kayak clients.

Oscar Zamorano
Principal Channel Consultant, HubSpot
Kayak brings a comprehensive strategic plan to new users on HubSpot. Their unique process goes further than regular HubSpot onboarding by diving deeper into strategy, while also incorporating practical tool training. The end product gives clients a clear and thoughtful marketing strategy in addition to the tool knowledge needed to execute that plan.
---
Kayak's Commitment to helping you grow incorporates HubSpot
Marketing, sales, and service software that helps your business grow without compromise. Because "good for the business" should also mean "good for the customer."
---
HubSpot Marketing Hub
Marketing Hub Professional (our preferred toolset) is for marketing teams that want to deploy and automate multi-channel campaigns and customize their approach. There are at least 3 marketers on the team with marketing or sales specializations and tend to be part of larger organizations. Marketing Hub Professional is a fit for specialized marketing teams that want to efficiently run inbound campaigns with content and automation.
Best for Grow Your Business and Grow Your Results programs.
Marketing Hub Starter brings together all of the essentials that marketers need to get started. Other solutions require marketers to cobble their various tools together, which can waste time and increase the risk of errors. With Marketing Hub Starter, getting started is simple. Businesses can establish a strong foundation and commit to a solution that scales as they grow.
Starter is for simpler marketing organizations (could be a marketer, or a jack-of-all-trades, or even an owner/founder), who want to start marketing right. They might be coming from a competing platform and need a way to start marketing right (on the way to growing their leads) with HubSpot.
Best for our Grow My Leads program.
---
HubSpot Sales Hub
Sales Hub Professional is a comprehensive sales CRM that gives growing teams the tools to automate and scale their sales process. Ideal for sales teams looking to streamline their process. Sales Hub Professional introduces even more of the power and sophistication that sales teams need. If a team is looking to get on board with Sales Hub, we recommend Sales Hub Professional over Sales Hub Starter every time.
Not only does Professional bring automation into the mix (a super powerful tool), it also gives teams access to the basic guardrails they need to stay organized and work more efficiently. These are features like required fields, multiple deal pipelines, teams, products and quotes, and custom reporting.
Sales Hub Starter is an essential sales CRM that gives small teams the tools they need to shorten sales cycles and improve close rates. Ideal for individual reps looking to speed up their sales process. Starter gives your reps extensive access to the tools they need to sell smarter: templates, documents, sequences, calling, meetings -- they'll be able to access it all without hitting limits.

Shawn Freeman
TWT Group Inc.
We worked with Randy to rebuild our website in Hubspot and he provided excellent direction and helped us stick to budget. His team was super flexible and really helped us understand any long term implications of decisions so we could make the right ones. Highly recommended!
---
New to HubSpot? Watch this video.
As a HubSpot Certified Partner Agency, KAYAK:
Employs multiple Inbound Certified Professionals in-house
Adheres to a high standard of ethics and fair business practices
Truly wants to coach you how to do our job (yes, you read that correctly)
Manages your HubSpot portal alongside you.
---
Let's talk about Growing Your Business with HubSpot.
---