A website platform created for you, that we use ourselves.
Our leadership team has turned their talents for award-winning creativity and engineering high-end websites, into creating an agency-level website platform specifically for do-it-yourselfers and smaller businesses.
Say goodbye to website maintenance.
Technology changes. Website security gets outdated. Security patches get missed and websites get hacked. But not on wpSites. Our expert support team maintains the back end and security for users.
Design a beautiful website with Gutenberg.
Build fast-loading websites without any coding knowledge, inside the WordPress editor, Gutenberg. Get professional-level results using drag-and-drop blocks, pre-built templates, and expert wireframes.
Get website hosting and SSL included, too.
Kayak's sub-brand, wpSites, handles your website's hosting, even on the forever-free plan. Let's Encrypt SSL is included, too. That means no headaches for you as your site starts fully optimized.
---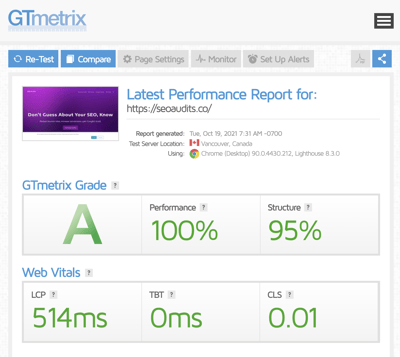 Curious to see how our client sites score, we ran seoaudits.co through GTMetrix. The site was recently created on wpSites and features a custom domain. Other than the custom domain, all tech is the default stack. To our delight, the site scored a coveted GTMetrix A-Grade.
The tech stack in wpSites has been selected, tested, and optimized for performance and SEO. Our users deserve nothing less. If you haven't signed up for a free site yet, please do. You'll begin with our Forever Free subscription. Upgrading is always optional.