Having grown up on the lakes of British Columbia, Canada, you could say that I'm just as comfy in the cockpit of a kayak as I am at the helm of our internationally-recognized marketing firm.
When I'm not doing either, you might just find me hiking the Canadian Rockies, exploring the alleyways of Istanbul (the incredibly historic European side, of course), or solving complex customer buying processes alongside our clients.
---
In 2011, on the heels of surviving stage IV cancer, we created Kayak, and in doing so launched a different kind of agency. One that helps clients grow themselves so they can grow their organizations. In effect, we share the secret sauce. Not just our own 'sauce', but the growing body of knowledge we've gained from working with more than 500 organizations and the incredible minds within.
---
On a much more personal note.
People around me know that I'm not afraid to give 'it' away. What I don't think I've been very good at is expressing why. In September of 2019, I participated in a program which helped me to gain clarity, and I'd like to share that with you here.
When I decided to create flowww sites – Kayak's sub-brand for smaller businesses – it was with the very clear understanding that some Kayak clients or prospects would opt to take the smaller budget path offered there. Some staff suggested there was an equal chance those decisions could negatively impact our core business activities, our revenue, and our ability to attract and retain talent. I proceeded anyway.
What drove me to do so is rooted in my desire to help others grow and prosper. From the way we dig into our clients' "Why" in our marketing program, to the delivery of our coaching sessions, and even the selection of topics I've blogged about over the years, can all be linked to that core goal.
Its rooted in my past from which I've shared snippets throughout my life. That outlook shaped my decisions when I left home at a very young age, again when I became homeless at 16, and was present throughout my torturous battle with stage IV cancer. And, it led to the launch of Kayak in 2011.
Doing everything I can to make help others grow and prosper is my reason for being on this earth. I know that when I die, having done so will make my life one worth living. And, that I will have responded with gusto to that voice in my head during the deepest and darkest moments of my cancer battle, when I screamed out silently – and deafeningly – in my mind that, "I HAVEN'T ACCOMPLISHED ENOUGH YET!"
I'm sharing this not to have you respond, but to express more meaningfully the reasons behind why I do that things that I do, and what sits behind my vision of success for my businesses, you, and your business.
Thank you from the bottom of my heart for being on this journey with me.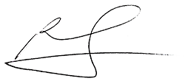 PS - Photo credit to Vince Fowler, Craigery Denis, Paul Trieu.
---
Accomplishments made possible with the support of the amazing Kayak team:
Founder, flowwwsites by Kayak 2018
Founder, SEO Audits by Kayak 2017
E&Y Entrepreneur of the Year Nominee 2015
Featured article in The Financial Post, 2014
Calgary Small Business of the Year Finalist, 2013
Calgary Breakout Business Finalist, 2013
Syndicated Author Business to Community, 2015-current
Syndicated Author Social Media Today, 2011-current
Founder, Kayak Marketing 2011
Founder, HandyRandy Communications 1999
---
Having begun my career as a designer, I never thought I'd become a writer. But somewhere along the line it happened. 500+ blogs and 4 books (all 4 achieved #1 rank on Amazon). And more coming.
#

whodathunkit?
---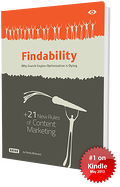 Findability: Why Search Engine Optimization is Dying + 21 New Rules of Content Marketing. A quick and meaningful read for those responsible for content creation/direction in small to medium businesses or marketing departments of larger organizations. Currently available in 13 countries and in 10 languages for the Kindle Reader, and as an audiobook and paperback in English.
---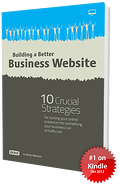 Published in October of 2013, Building a Better Business Website: 10 Crucial Strategies for Turning Your Online Presence Into Something Your Company Can Actually Use, is an easy to read book that will provide an overview of the important aspects of a successful attraction-based marketing website. This book is currently available in 13 countries and 10 languages for the Kindle Reader and in paperback in English.
---
I'm also a co-author of Disruption: How Successful People Use Social Media for Business. Currently available on Kindle Reader, this book is full of real life insights into how and why to use social media to build business from men and women who use it everyday.
---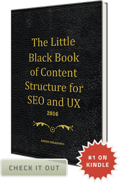 Content formatting and page structure are significant components of successful search optimization and lead qualification. The Little Black Book of Content Structure for SEO and UX eBook. Although the process of including key phrases, refining content, and setting up internal links can seem a bit tedious at first, it's a skill that becomes second nature over time and more powerful as you optimize your content again and again. As has become the customary with my books, this Little Black Book has been written to provide you with straight forward, actionable guidance on making the most of your website, no matter if you are a developer, designer, webmaster, marketer, or do-it-yourselfer. Published on December 29, 2015. Head's up, I wrote – and published - this book in 2 days. Any typos are entirely my fault. Ads authenticity, I'd say. ;)
---
An entrepreneur and regular volunteer, I fuel my creativity via worldwide travel and information exchanges with counterparts from around the globe (expanded most recently with the help of GooglePlus [RIP]). I have visited work sites in Canada, the USA, France, Italy, Croatia, Singapore, Malaysia and Germany. I believe 23 countries (so far).
---

On the chance you might be a craft beer fan too, I have a little side project I'm sure you're going to love. Check out my Craft Beer Fan page or Instagram account today.