Get Findability: Why Search Engine Optimization is Dying + 21 New Rules of Content Marketing. Are you ready for the new world of search engine optimization, social media, and content marketing?
---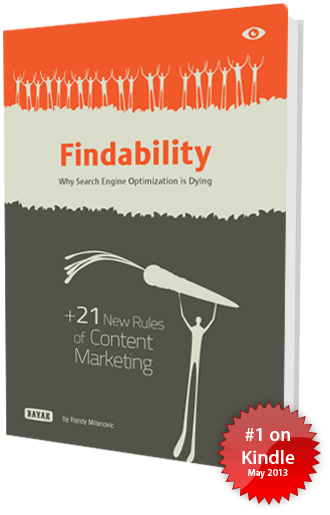 You had better be, because Google, Facebook, Twitter, and other popular Internet marketing tools are changing fast... the companies that adapt are going to find more opportunities, while their competitors are going to be left behind.
In this short e-book, you'll learn everything you need to know to develop a strong content marketing strategy and use it to attract targeted visitors to your website time and time again. Topics include:
Why traditional search engine optimization is dying... and what Google has planned next.
The best ways to appeal to search engines, social media sites, and customers at the same time.
One mistake that kills 95% of the marketing content you see, and how to avoid it.
The 21 new rules of content marketing that businesses of all sizes use effectively and affordably.
… and a lot more.