Managing multiple websites and brands efficiently is a challenge for brand managers. The right pro-level theme can greatly simplify the effort. Let's take a look at multi-domain management on HubSpot CMS Hub.
---
The Challenge: Brand Management Across Multiple Websites
Deploying unique websites for brands/sub-brands and specific audiences is smart. However, managing consistency across multiple websites poses techncial challenges:
Brand Management Complexity

: The technical demands for multi-domain website deployment can be extensive and prone to issues without the proper technical team or strategy in place. Usually this means engaging a costly IT team or agency.

Brand Manager User Experience

: Different platforms and designs typically mean inconsistent internal team user experiences that affect efficiency and reporting.
---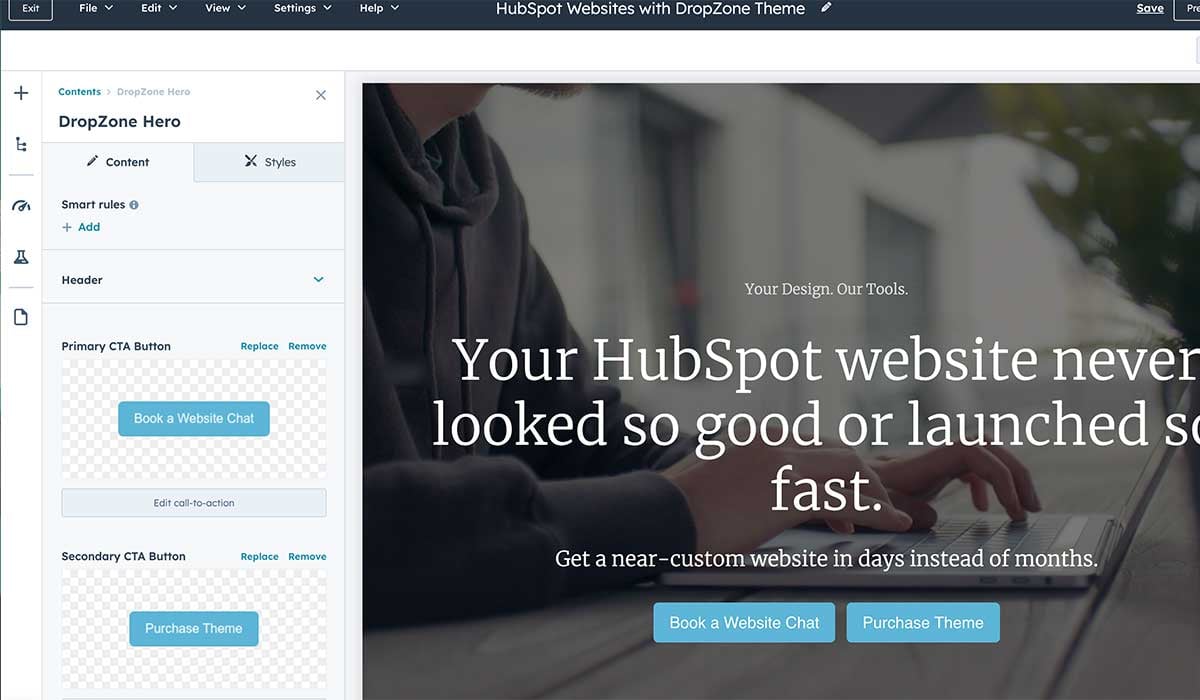 A Solution: (Pro) DropZone Pro Theme for HubSpot CMS Hub
DropZone Pro Theme is designed to alleviate these challenges, helping users manage multiple websites (domains, and business unites) through a consistent user interface within a single HubSpot Portal. Here's how it works:
Modular Design

: DropZone Pro Theme features advanced, pre-developed content modules and master templates. Content modules coexist natively alongside HubSpot Common Modules. The master templates address page types from a UX perspective and are styled via theme styling. Global content can be styled to each brand as desired (automatically or manually depending on result desired).

Centralized Content Management

: DropZone unifies theme management within a HubSpot Pro or Enterprise portal, simplifying content organization and deployment as well as content updates across multiple websites from a familiar interface.

Easy Customization

: Straightforward customization options for colors, typography, and layouts are provided for each brand within the theme settings.

Streamlined Development

: DropZone Pro Theme dramatically reduces or eliminates the need for custom design and development, reducing errors and avoiding lost time waiting for development to be completed.

Consistent User Experience

: A single theme delivers a uniform editing experience for brand managers and webmasters across all websites.

Multiple Languages

: HubSpot CMS features Smart Content. DropZone Pro Theme modules support multiple language management.

Content Management

: The theme promotes standardized content sizing, reducing the need for multiple formats. This streamlines content management across all websites.
---
Benefits of Using DropZone Pro Theme
Utilizing DropZone Pro Theme for managing multiple websites in a HubSpot portal has several advantages:
Cost-Efficiency and Data Preservation: Centralizing content management and streamlined deployment dramatically saves time and budget. Plus, future redesigns are executed through simple visual design reconfigurations that preserve valuable page data.
Brand Integrity: Keeping a consistent design experience across each website helps to maintain each website's brand identity.
Efficient Deployment: Near instant website launches and redesigns help businesses get to market or respond to market changes promptly.
Improved User Experience: Uniform design and functionality across all websites contribute to a brand manager's user-friendly experience.
Scalability: DropZone Pro Theme supports new websites easily. From website migrations to redesigns supporting existing and new brands, DropZone Pro Theme grows with the organization.
---
In a nutshell, DropZone Pro Theme simplifies the task of managing multiple websites within a single HubSpot portal.
It helps ease the process of multi-domain deployment for HubSpot CMS Hub users, aiming for a uniform user experience across all platforms. Its modular design, centralized content management, and easy customization features could be assets for businesses looking to manage their online presence efficiently on HubSpot CMS Hub.