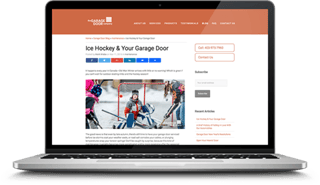 Results
The redeployed website was launched on WordPress and with KAYAK's coaching, the client was empowered to create and deploy the type of optimized website needed to attract leads.
Additionally, for their PPC campaign, KAYAK showed how to put the owner's inside knowledge of the business to work via the much simpler AdWords Express, creating ads that were specific to their customer's pain points without paying a 30% commission. For the Garage Door Company, this meant that instead of paying the directory company $15,600 AdWords commission, they only paid KAYAK for 2 hours of time or $250. The best news was that their self-directed (commission-free) efforts were able to attract 10x the customers!
The directory's previous ongoing costs of $4,000/month for their website maintenance, and $1,000/month for Social maintenance disappeared. And the client gained the knowledge to run their own new business generation efforts.
Garage Door Company Online Cost Overview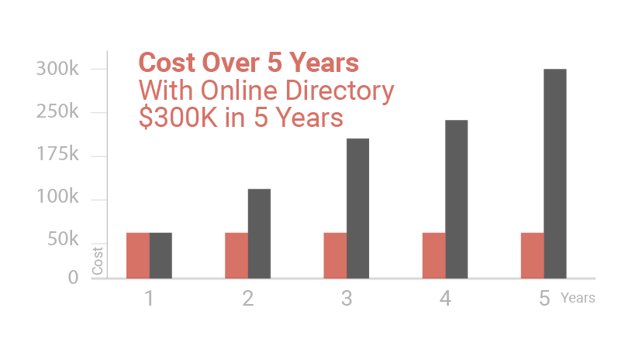 Maintenance Costs
| | Directory | KAYAK |
| --- | --- | --- |
| Website & Marketing | $0 | $60,000 |
| Website Maintenance | $48,000/year | $0 |
| Social Media Maintenance | $12,000/year | $0 |
| 1-Year Total | $60,000 | $60,000 |
| 5-Year Total | $300,000 | $60,000 |
If we do some simple math and look back at the directory company's 5-year cost to the client for website and social media maintenance, the number would be somewhere around $300,000, plus AdWords commission of approximately $78,000, for a grand total of $378,000. Add another year and we're awfully close to half a million dollars.

Randy Milanovic
CEO, KAYAK
What's not as easy to add up is the true cost of the weaker website which undoubtedly contributed to AdWords budget increase requests.
Supporting Advertising Campaign
One more thing... we set up a 6 month search advertising campaign for this client. Since running client ad accounts is not a core business at KAYAK (we usually advise while clients execute), we ran Adwords Express ads instead of full Adwords. To hedge our bets, we also hired a PPC firm, marketing360.com to run another campaign.
The results:
Marketing360: Budget: $5k, Customers aquired: 41
Cost Per Customer: $122.00
KAYAK: Budget: $15k Customers aquired: 540
Cost Per Customer: $27.77
Thus, the campaign created by KAYAK that was based on our knowledge of the client's prospects appealed to customer pain points instead shotgunning keywords and then filtering them with negative keywords performed 4x better.